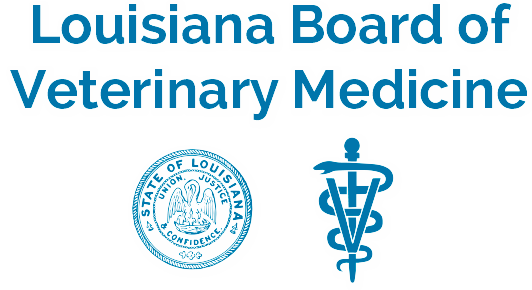 You Can Now Renew Certifications Online!
Renewals for License (DVM), Registration (RVT) and Certification (CAET)

Louisiana DVM licenses to practice veterinary medicine and certificates for veterinary technicians, animal euthanasia technicians and equine dentists expire annually on SEPTEMBER 30. Annual renewal and re-registration of Louisiana licenses/certificates occur during the renewal period of July 1 through September 30 (expiration date). Postcard notifications for the new '20-'21 cycle were mailed out in late-June. Renewals are not be accepted prior to July 1, 2020 for the new renewal period.
For the '20-'21 renewal cycle, applicants are strongly urged to complete the renewal application through the Online Renewal Portal.
A paper Renewal Application Packet will only be mailed to licensees upon written request via email; however, paper applications will take considerably longer to process, especially given the USPS issues due to the COVID-19 pandemic. For those licensees with special conditions (faculty licenses, CAETs, DVMs who have a required affidavit or expired licenses/certificates) a paper application will automatically be mailed out in the last week of June.  The 2020-2021 renewal cycle will be the last cycle in which paper applications will be available upon request. Starting in 2021-2022, all applications must be completed through the online renewal system.
Click to go to '20-'21 Online Renewal Portal
COMPLETE RENEWALS
A renewal application is considered complete when all of the following has been submitted: (1) a completed renewal application; (2) payment of the appropriate renewal fees; (3) submission of acceptable proof of approved continuing education; and (4) payment of any late fees due, if applicable.
LATE FEES AND INCOMPLETE RENEWALS
You will have from July 1 until September 30 to submit your completed renewal application.  To discourage late renewals, a late renewal fee will be assessed for renewals postmarked after September 30. Incomplete applications will be sent back for corrections and/or missing information (including insufficient/unacceptable proof of CE hours submitted), resulting in a delay in licensing. Any returned application is considered late no matter the reason if postmarked after September 30. If an application is submitted incomplete to the Board office, it will be returned to the applicant for completion and/or corrections.  Returned renewals will contain a cover statement indicating why the renewal is being returned incomplete and will not be processed. Renewal packets postmarked after September 30, and received in the board office without payment of the late renewal fee will not be processed by Board office personnel.  These renewals are considered late submissions and incomplete.  The renewal packet will be returned to you for the collection of the late renewal fee.
CHANGE OF STATUS FOR DVMs
You may change your license status at any time during the year.  If you select an Inactive status and your situation changes during the year, please contact the Board office for assistance.  Most status changes are easy to make and only involve payment of the fee difference.
SPECIAL COMPETENCE STATUS FOR DVMs
Veterinary licensees who are currently certified or boarded by an AVMA-recognized specialty organization in a particular specialty field of veterinary medicine can register their special competence (specialty) with the licensing Board in accordance with Board Rule 1063.  LBVM registration of specialty certification would allow the licensee to legally indicate the specialty on or in a variety of items such as on letterhead and business cards and in advertisements and "yellow page" listings.
CONTINUING EDUCATION REPORTING REQUIREMENTS FOR DVMs, RVTs, CAETs, and REDs
Emergency Rule due to COVID-19 Pandemic
– In its April meeting, the Board agreed to promulgate an emergency rule as it pertains to continuing education and preceptorships for the 2020-2021 application cycle. In its June meeting, the Board voted to amend and promulgate the Emergency Rule below pertaining to Continuing Education and Preceptorships. With regards to
Continuing Education requirements
, for the application cycles of 2020-2021
(with the CE period of July 1, 2019 through June 30, 2020)
and 2021-2022
(with the CE period of July 1, 2020 through June 30, 2021)
, all licensees are given until June 30, 2021 to complete the required CE hours for both application cycles.  Additionally, there is no limit per application cycle for approved online instruction with third-party grading. The Emergency Rule can be viewed in its entirety at
www.lsbvm.org/wp-content/uploads/2020/06/DOE-2020-COVID-19.pdf
.
How to record CE hours completed? Continuing education (CE) hours must be indicated in the box on the renewal application.  Acceptable proof of attendance for the hours indicated must be attached to the renewal application.  If you are not sure you have acceptable proof of attendance, please contact the Board office for assistance.  CE hours submitted with renewal forms for programs not pre-approved by the Board are subject to review by the Board. If any CE hours were completed from July 1, 2019 to June 30, 2020, please submit proof of attendance and indicate the number of hours completed on the '20-'21 application. Any missing hours will be rolled over to the '21-'22 application cycle and will have to be completed by June 30, 2021 and included with the '21-'22 renewal application.
FEES
The fees below will be assessed on your online renewal application based on the information submitted. Payment can be made online via credit/debit card once all renewal information is entered and submitted. An online processing fee of $8 is required and assessed for all online applications.
Renewal Fees
DVM – Active ($250)  |  DVM – Inactive ($125)  |  DVM – Inactive-Retired ($125)  |  DVM – Inactive-Disabled ($125)  |  DVM – Active Duty Military (* Board review necessary)  |  RVT ($30)  |  CAET ($50)  |  RED ($125)
Continuing Education Fees
For DVMs only – If hours were taken after the June 30th CE deadline, a late CE fee of $25 will be assessed.
Late Renewal Fees
The late renewal fee is due on all online renewals not submitted, including all required fees paid, by midnight on September 30. The late renewal fee must be paid for all completed paper applications not postmarked by September 30. Late fees are as follows: DVMs ($150)  |  RVTs ($20)  |  CAETs ($25)  |  REDs ($100)
SIGNATURES
If a paper renewal application is completed, it must be signed in the given signature area.  Unsigned paper renewal applications cannot be accepted.  Paper renewal applications will be considered incomplete without signatures and will be returned for signature.  Late renewal fees will be applicable on returned forms that are not returned to the Board office postmarked by September 30, 2020.
Board office personnel will be happy to help you with any questions or problems.  You may contact the board office Monday through Friday, 8:30am am to 3:30pm (central) via telephone at 225-925-6620 or via email at admin@lsbvm.org.