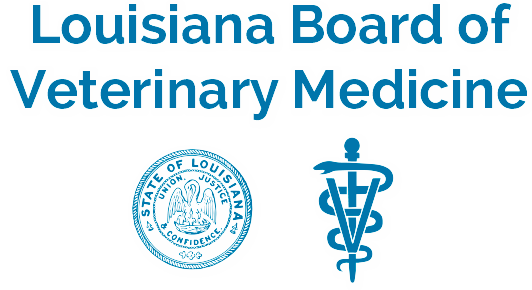 You Can Now Renew Certifications Online!
Preceptorship (DVM)

Preceptorship Requirement in Louisiana for All DVM Applicants
An eight-week (320 hour) BOARD APPROVED preceptorship is a REQUIREMENT FOR LICENSURE IN LOUISIANA. This is not the same as an externship or internship done through your school of veterinary medicine.
This is a real licensing requirement. It is not just a paperwork formality. Plan to take this requirement seriously. Your school's post graduate Resident/Intern program MAY OR MAY NOT qualify you for a waiver of the Board's requirement.
If you request a review of your student post graduate Resident/Intern experience, you must allow three to four weeks for processing. If the experience does not substantially meet the Board's requirements, you may be asked to obtain additional hours up to the maximum of 320.
The Board preceptorship program has very specific guidelines and paperwork requirements to be timely submitted. It may be more advantageous to use your intended employer as a preceptor. This is NOT legal in Louisiana unless the employer is approved by this Board as a preceptorship host practice AND you register with the Board office as a preceptee FIRST.
Any person who performs surgery, makes a diagnosis or prognosis, or prescribes mediations or appliances to an animal in Louisiana is practicing veterinary medicine. To legally practice veterinary medicine in Louisiana, you must have a license to practice or be registered as a preceptee with the LOUISIANA BOARD. If you are not registered with us, then you must have a Louisiana license to provide these services. Direct supervision is NOT A SUBSTITUTE FOR BOARD APPROVAL (see Rules 702 and 1031 of the Louisiana Veterinary Practice Act).
We will be happy to answer your questions about this requirement and help you select the most appropriate option. Please call us as early as possible to avoid a delay in obtaining your license.
ALL FORMS for Preceptorship must be submitted IN ORIGINAL FORM ONLY. No photocopy or faxed forms will be accepted.
| | |
| --- | --- |
| Forms/Information for Preceptee/Student | Forms/Information for Preceptor/Practice |
| | |