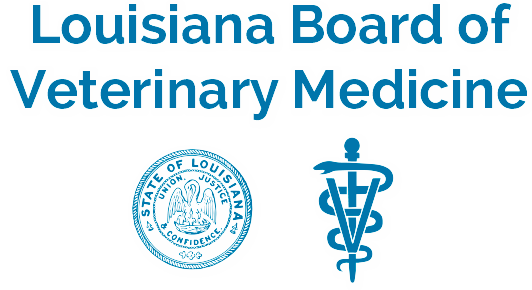 You Can Now Renew Certifications Online!
News & Deadlines

COVID-19 Emergency Rule Announcement Regarding Continuing Education and Preceptorship Requirements
Please see the "Rule-Making" section below for more details regarding the Board's decision to promulgate an Emergency Rule to address the impacts of the COVID-19 pandemic on continuing education and preceptorship requirements for its licensees and certificate holders.
News Alerts
---
Veterinarian's Eligibility for the COVID-19 Vaccine – On February 1, 2021, the following message was sent to Dr. Mike Strain, Commissioner of Agriculture, Louisiana Department of Agriculture and Forestry, from the Louisiana Department of Health:
After careful consideration, we are now including Louisiana's veterinarians in Phase 1b tier 2 for eligibility for the COVID-19 vaccine. Currently, Louisiana is in Phase 1a and Phase 1b, tier 1. Phase 1b tier 2 is the next eligibility phase. The most critical variable that will determine when we can enter the tier 2 phase and offer vaccine appointments to veterinarians is how quickly Louisiana gets more vaccine allocations from the federal government. This is a fluid process, and priorities may change depending on the amount of vaccine that is available to Louisiana. We appreciate your patience, as well as the patience of all of Louisiana's veterinarians as we worked to make this decision.
---
LBVM Administrative Office has Relocated – Effective May 19, 2020, the LA Board of Veterinary Medicine has moved office locations. The Board's new physical address and mailing address is as follows:
Louisiana Board of Veterinary Medicine
5825 Florida Blvd
Baton Rouge, LA  70806
Additionally, the LBVM's phone numbers have changed. The new office number is (225)925-6620 and the new fax number is (225)925-6622.
---
Live, Interactive Continuing Education Hours as Defined by the LA Veterinary Practice Act
The Board continues to receive questions from practitioners concerning the type of continuing education hours required for the annual renewal of licenses – specifically whether interactive, live presentations online may be substituted for the physical presence requirements for attendance at seminars, lectures, conferences, or workshops.  Further guidance has been requested concerning the definition of "online instruction" which is limited to 10 hours per fiscal year.  These issues are particularly relevant given the unusual circumstances presented by social distancing constraints made necessary by the COVID-19 emergency.
The Board is governed in this regard by the provisions of the Louisiana Administrative Code(LAC title 46 part LXXXV) and in particular Chapter 4, sections 400 and 403 (A) (2) and (3).  The LAC addresses continuing education instruction in terms of subject matter, accreditation, and the means of delivery of instruction (medium).
Subject matter content is governed by Section 403 (A)(3):  "3.  The 20-hour requirement for annual renewal of a license may be taken in any combination of the following board-approved programs regarding subject matter content:  clinical, alternative, regulatory, practice management, and/or research…".
Accreditation is addressed by Section 400 and 403 (A)(1):  "1. A. A continuing education program accepted by another state's regulatory board of veterinary medicine, a governmental entity, and/or AAVSB, as well as those programs sponsored by AVMA accredited schools of veterinary medicine and/or any professional associations recognized by the board…(and)…other programs…submitted to the board for pre-approval…".
The medium of delivery of instruction has specific provisions beyond content and accreditation.  "Contact participation" is defined in section 400 as "physical attendance at seminars, lectures, conferences, or workshops".  The units of continuing education by contact participation are not limited by the LAC.  Sections 403 (A) (2) and (3) provide that a maximum of 10 hours of accredited instruction may be obtained in "approved videotaped, self-test programs with third-party grading, and/or self-help instruction, including online instruction with third-party grading" (Section 403 (A)(2)).  Section 403 (A)(3), after addressing subject matter content further provides:  "…however, the actual mediums of approved videotaped, self-test programs with third-party grading, and/or self-help instruction, including online instruction with third-party grading, are limited to the 10-hour maximum set forth in paragraph A.2 of this Section".
Accordingly, the LAC distinguishes between "physical attendance" instruction and all other types, including interactive, live instruction participation online, the latter being subject to the 10 hour maximum per fiscal year.
Board Meeting Dates
Thursday, December 3, 2020  Rescheduled for Thursday, December 10, 2020  (The December 3rd meeting was postponed and rescheduled due to a COVID exposure in the office.)
Thursday, February 4, 2021
Thursday, April 1, 2021
Thursday, June 3, 2021 (Annual Meeting)
Thursday, August 5, 2021
Thursday, October 7, 2021
Thursday, December 2, 2021
Notice & Proposed Agendas for meetings are posted one week prior to an upcoming meeting on the Louisiana Boards & Commission site.
State Board Examination
The State Board Examination is administered on the first Tuesday of every month (unless changed for weather/holiday). The deadline to sign up for the state board exam is two weeks prior to examination date. No late applications will be accepted. The examination is given at the Board office in Baton Rouge.
Thursday, November 10, 2020
Thursday, December 1, 2020
Tuesday, January 5, 2021
Tuesday, February 2, 2021
Tuesday, March 2, 2021
Tuesday, April 6, 2021
Tuesday, May 4, 2021
Tuesday, June 1, 2021
Tuesday, July 6, 2021
Tuesday, August 3, 2021
Tuesday, September 7, 2021
Tuesday, October 5, 2021
Tuesday, November 2, 2021
Tuesday, December 7, 2021
North America Veterinary Licensing Examination (NAVLE)
The 2020 winter NAVLE test window is September 1 through December 31, 2020.
The deadline to apply to take the NAVLE during this test window is August 1, 2020.
The 2021 spring NAVLE test window is March 1 through May 31, 2021.
Applications for the 2021 spring NAVLE test are accepted from December 1 through February 1, 2021.
No late applications will be accepted.
Veterinary Technician National Examination (VTNE)
The VTNE will be administered on the following schedule:
| | |
| --- | --- |
| Examination Date | Application Deadline |
| March 15 – May 31, 2021 | February 15th, 2021 |
| Summer 2021 dates are not yet available | Summer 2021 Deadline – not yet available |
| Fall 2021 dates are not yet available | Fall 2021 Deadline – not yet available |
Scores are reported monthly from AAVSB to the LBVM. The Summer 2021 and Fall 2021 dates will be added to our website as soon as they are made available to the LBVM.
License/Certificate Renewals
All licenses/certificates not renewed on or before September 30, 2020 are now expired. The 2020-21-year renewal period was from July 1, 2020 to September 30, 2021 (expiration date). For more details on the renewal process, please visit www.lsbvm.org/renewals.
Please make sure the CE programs you attended are Board approved/accepted and that the attendance documentation is Board acceptable (see Board-approved CE Policy Statement and/or Board Rules, Chapter 4, for details).
Rule-Making
Emergency Rule due to COVID-19 Pandemic (06/09/2020)
In its April meeting, the Board agreed to promulgate an emergency rule as it pertains to continuing education and preceptorships for the renewal cycle of 2020-2021. In its June meeting, the Board voted to amend and promulgate the Emergency Rule below pertaining to Continuing Education and Preceptorships.
With regards to Continuing Education requirements, for the renewal cycles of 2020-2021 (with the CE period of July 1, 2019 through June 30, 2020) and 2021-2022 (with the CE period of July 1, 2020 through June 30, 2021), all licensees are given until June 30, 2021 to complete the required CE hours for both renewal cycles.  Additionally, there is no limit per renewal cycle for approved online instruction with third-party grading
With respect to Preceptorship requirements for licensure, the Board will issue temporary permits to practice veterinary medicine to those applicants who only lack the requirement of the completion of the preceptorship program for licensure. For the number of full weeks (40 hours of training per week) the applicant lacks completion of the preceptorship program, the first weeks of actual job duties with an employer will be considered as part of an approved preceptorship program for the term required to complete the preceptorship program. The employee/preceptee and employer/preceptor must still complete an official preceptorship by completing all paperwork and steps usually required including the practice assessment questionnaire (for those practices not yet approved as preceptorships by the LBVM), agreement form, attendance logs, evaluation sheets, practice assessment forms and job description forms. Upon submission of a favorable evaluation by the employer/preceptor, a permanent license will be issued by the Board provided all other qualifications have been met. If the evaluation is an unfavorable one, the Board shall have the discretion to revoke the temporary permit, extend the temporary permit and/or require an additional preceptorship assignment during the period of the extension. All temporary licenses will expire on December 31, 2020.
This emergency rule, and any extension, will end on July 1, 2021 and the current Rules will apply thereafter. View the full emergency Rule at www.lsbvm.org/wp-content/uploads/2020/06/DOE-2020-COVID-19.pdf or in the Louisiana Register at http://www.doa.la.gov/Pages/osr/reg/register.aspx.
Emergency Rule publication date
(Effective 06/09/2020)
CAET Course Dates and Deadlines
The Louisiana Board of Veterinary Medicine is working on the next certification course for CAETs to be offered on February 25, 2021. More details will be posted once the date is confirmed. The deadline for registration will be February 5th, 2021. For more details, please visit www.lsbvm.org/caettraining. Call the Board office at 225-925-6620 or email at admin@lsbvm.org if you have any questions about the CAET training course.