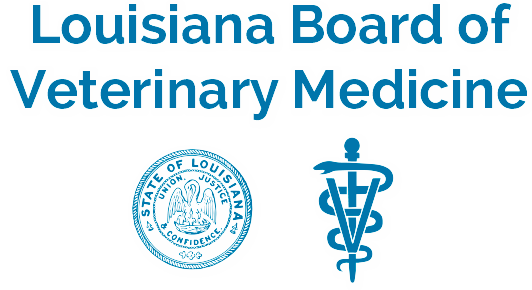 You Can Now Renew Certifications Online!
News & Deadlines

COVID-19 Emergency Rule Announcement Regarding Continuing Education and Preceptorship Requirements
During its meeting on April 2, 2020 the Board decided to promulgate the following Emergency Rules applicable to Continuing Education and Preceptorship requirements due to circumstances presented by COVID-19.
Continuing Education Requirements (for DVMs, RVTs, CAETs and REDs):
The Board, by emergency rule, will extend the time period for obtaining actual hours of continuing education for this fiscal year (2020) until the end of fiscal year 2021 (ending June 30, 2021). The maximum of hours of credit for approved videotaped, self-test programs with third party grading, and/or self-help instruction, including online instruction with third-party grading, per fiscal year, will be unchanged. There will be no late fee assessments for not having completed the hour requirements (with maximum hours of which can be online seen below) by June 30, 2020. For fiscal year 2021, the requirements in place under present rule 403 are unchanged. (Rule 403 can be found on page 37 of the LA Veterinary Practice Act.) This emergency rule will expire on June 30, 2021.
Online CE Maximums
DVMs are capped at 10 of the 20 CE credits for participation in approved online programming.
RVTs are capped at 5 of the 10 CE credits for participation in approved online programming.
CAETs are capped at 3 of the 6 CE credits for participation in approved online programming.
For example, if you are a DVM and did not complete any of the 20 continuing education hours required for the 2020 renewal cycle, then by June 30, 2021 you will have to show proof of completion of a total of 40 continuing education hours (20 hours needed for the 2020 renewal cycle and 20 hours needed for the 2021 renewal cycle).

Preceptorship Requirements:
The Board, by emergency rule, will issue temporary permits to practice veterinary medicine to those applicants who only lack the requirement of the completion of the preceptorship program for licensure. For the number of full weeks (40 hours of training per week) the applicant lacks completion of the preceptorship program, the first weeks of actual job duties with an employer will be considered as part of an approved preceptorship program for the term required to complete the preceptorship program. The employee/preceptee and employer/preceptor must complete all paperwork usually required including the practice assessment questionnaire (for those practices not yet approved as preceptorships by the LBVM), agreement form, attendance logs, evaluation sheets, practice assessment forms and job description forms. Upon submission of a favorable evaluation by the employer/preceptor, a permanent license will be issued by the Board provided all other qualifications have been met. If the evaluation is an unfavorable one, the Board shall have the discretion to revoke the temporary permit, extend the temporary permit and/or require an additional preceptorship assignment during the period of the extension. This emergency rule will expire on January 1, 2021.
News Alerts
---
Remote Operations Until April 30th
In response to Governor Edward's stay-at-home order, the LBVM has moved to remote operations and the office is closed to the public through April 30th. During this time, our staff will work diligently to ensure that all operations of the agency continue as uninterrupted as possible during this period of remote operation; however, we ask for patience in this unprecedented event. The LVBM will continually assess the situation before determining when to reopen the agency to the public. We will actively update our website and send email notifications as the situation evolves.
Additional Questions
The LBVM understands the vast complexities caused by this pandemic and is working diligently to find solutions for the array of issues affecting our constituents. We encourage you to utilize web resources at
www.lsbvm.org
for details on the application and renewal processes, and please do not hesitate to email us at
admin@lsbvm.org
with any questions.
---
Excerpt from Louisiana Board of Pharmacy Newsletter October 2019 (CBD Oil, Hemp, etc.)
---
LRS of 1950, Title 3, Chapter 10A, Part VI – Industrial Hemp-Derived Cannabidiol Products
Board Meeting Dates
Tuesday, December 3, 2019
Thursday, February 6, 2020
Thursday, April 2, 2020
Thursday, June 4, 2020
Thursday, August 6, 2020
Thursday, October 1, 2020
Thursday, December 3, 2020
Notice & Proposed Agendas posted on Louisiana Boards & Commission site https://wwwcfprd.doa.louisiana.gov/boardsAndCommissions/viewBoard.cfm?board=43
State Board Examination
The State Board Examination is administered on the first Tuesday of every month (unless changed for weather/holiday).
Examination deadline for application is 2 weeks prior to examination.
No late applications will be accepted.
The examination is given at the Board office in Baton Rouge.
Thursday, December 5, 2019
Tuesday, January 7, 2020
Tuesday, February 4, 2020
Tuesday, March 3, 2020
Tuesday, April 7, 2020
Tuesday, May 5, 2020
Tuesday, June 2, 2020
Tuesday, July 7, 2020
Tuesday, August 4, 2020
Tuesday, September 1, 2020
Tuesday, October 6, 2020
Tuesday, November 10, 2020
Tuesday, December 1, 2020
North America Veterinary Licensing Examination (NAVLE)
The 2019 spring NAVLE test window will be April 7, through April 20, 2019.
The deadline to apply to take the NAVLE during this test window is February 1, 2019.
The 2019 winter NAVLE test window will be November 18 through December 13, 2019.
The deadline to apply to take the NAVLE during this test window is August 1, 2019.
The 2020 spring NAVLE test window will be April 13, through April 25, 2020.
The deadline to apply to take the NAVLE during this test window is February 1, 2020.
No late applications will be accepted.
Veterinary Technician National Examination (VTNE)
The VTNE will be administered on the following schedule:
| | |
| --- | --- |
| Examination Date | Application Deadline |
| March 15 – April 15 | February 15th |
| July 15 – August 15 | June 15th |
| November 15 – December 15 | October 15th |
License/Certificate Renewals
All licenses/certificates presently held will expire on September 30, 2020. The 2020-21-year renewal period will be held from July 1, 2020 to September 30, 2021 (expiration date).
Continuing education (CE) required for the 2020-21 year renewal must be taken between July 1, 2019 and June 30, 2020. CE taken prior to July 1, 2019 will not be accepted.
CE taken after June 30, 2020 will be considered late. The late CE fee of $25 must be submitted to complete renewal.
Please make sure the CE programs you attended are Board approved/accepted and that the attendance documentation is Board acceptable (see Board-approved CE Policy Statement and/or Board Rules, Chapter 4, for details).
Rule-Making
The following is a list of recently promulgated and Rule-making in progress. Please call or write the Board office for a copy of any Notice of Intent or Rule described, or view the Notice and/or Rule in the Louisiana Register,
http://www.doa.la.gov/Pages/osr/reg/register.aspx
Chapter
Rule 403, 1227 Continuing Education, Rule 1015, 1019 Professional Conduct
Notice of Intent Publication Date
11/20/2017; Comment submission to Oversight Committees 2/5/2018
Comments Deadlines/Public Hearing Date (if requested)
12/21/2017
Final Rule publication Date
(Effective 3/20/2018)
CAET Course Dates and Deadlines
Participation will be limited to first 30 applicants. There must be a minimum of 15 participants to hold the training course. Application deadlines will be strictly followed. For application instructions and forms, please visit www.lsbvm.org/animal-euthanasia-technician. Check the Board's website for updated notices as to training locations as the site changes according to need and availability or call the Board office at 225-342-2176 or email at admin@lsbvm.org.
CAET Course Announcement – The CAET course scheduled for April 9th, 2020 has been postponed indefinitely due to the COVID-19 pandemic. Annoucements will go out once the new class is scheduled.
©2018 Louisiana Board of Veterinary Medicine.