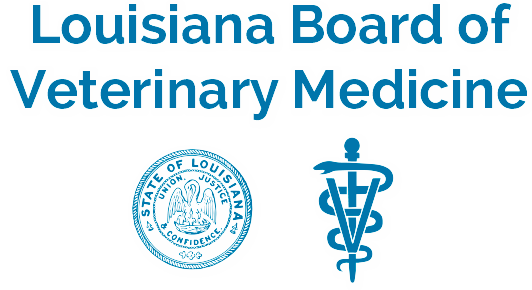 You Can Now Renew Certifications Online!
Continuing Education

Pre-approval is required 14 days prior to the seminar/presentation/meeting. You may want to peruse the website, www.lsbvm.org, for those programs already reviewed and approved by the Board. The web listing is updated every two months, more frequently if needed.
The Board staff is limited and cannot peruse websites for information concerning various meetings for approval.
In order to have continuing education programs approved by the Board, please submit the following information for review.
* Program Presented (Title with outline/synopsis of program/training)
* Name of Sponsor and contact person
* Exact Dates and times of the presentation, with proposed location
* Curriculum vitae of the presenter(s)
* Indicate if proposed for DVM, RVT or CAET continuing education credits
* Sample of brochure/advertisement utilized to affirmatively invite attendees
(Please send information via fax/US mail. We ask that you do not send scanned brochures/pamphlets via email as this disables/locks up the Boards entire computer system.)
In light of the many changes in CE presentation (format, i.e., online, and subject matter, i.e. holistic/alternative, etc.), LBVM has made concerted efforts to comply with the statutes/rules and review presentation/seminar/courses for valid credits for its licensees.
Note: A Continuing Education Program is approved by the LBVM for educational purposes only. As such, please be advised that any Continuing Education Program approved by the LBVM (or per its Rules) does not mean the LBVM endorses the subject matter and/or that its application is lawful in the actual practice of veterinary medicine in Louisiana. It is incumbent upon you to confirm any subject matter presented in a Continuing Education Program may be legally applied in your practice prior to its implementation.
©2018 Louisiana Board of Veterinary Medicine.