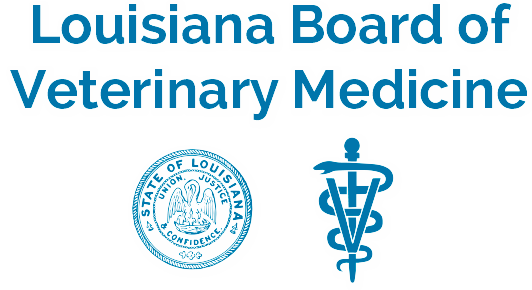 You Can Now Renew Certifications Online!
Certification Course Announcement for CAETs
Download CAET Training Brochure
The Louisiana Board of Veterinary Medicine is pleased to announce that the certification course for CAETs will be offered on the date below.  The location and fees are as follows:
Date:   Thursday, February 25th, 2021

Time:   8:00am to 4:00pm (completion time may vary)

Place:  City of Alexandria Animal Shelter200 Animal Shelter RoadAlexandria, LA 71309

Fees:   Total ($205) – Application $25; Course $80; Exam $50; Initial Certificate $50           The Board office requires a separate check for each participant
DEADLINE to Register is Friday, February 5th, 2021
 Participants will be limited to the first 30 applicants, and there must be a minimum of 15 participants to hold the training course.
Only persons who have completed this course and passed the examinations can be fully certified as a CAET to perform euthanasia with sodium pentobarbital and be eligible to obtain controlled substance permits from state and federal agencies in order to purchase and maintain controlled substances. If your animal control facility uses sodium pentobarbital for euthanasia of animals, your employees need to be certified to perform euthanasia without a licensed veterinarian on the premises.
It is strongly recommended that applicants for the certification course be familiar with basic CAET procedures before taking the CAET course.
Applicants for the course must submit: (1) fully completed, signed and notarized application form (do not leave blanks) including a list of the names and addresses of professional individuals for reference who have known the applicant a minimum of one year; (2) a passport size photo attached to the application form; (3) payment of applicable fees (application, course, exam, certification); (4) a notarized copy of applicant's valid driver's license or a photocopy of applicant's birth certificate; and (5) a photocopy of applicant's high school diploma or GED certificate or official transcript from an institution of higher learning.  The applicant is also responsible for completing the background check process with the Louisiana State Police per the application instructions and forms on the page below.
Each person registering for the course will receive more information prior to the course date.  The course handbook will be mailed to applicants one week prior to the course.